Keeping the Vacay Mode On: Attire to bring for your Honeymoon
Your honeymoon is just around the corner, and your spouse has planned a surprise to one of those exotic beaches at the Bahamas you've heard about. Or perhaps, it might be a romantic getaway to the Caribbean islands that is not only equipped with a multi-course veranda but plenty of sunshine, pina coladas, and sand as soft as talcum powder.
However, packing for a honeymoon is perhaps one of the most enjoyable things to do, especially after having spotted those tickets to a romantic paradise. Since love is in the air and your suitcase is all set to celebrate each swooning moment with pride, we have mentioned a few clothing tips that might help you pack the perfect attire for your honeymoon.
The Essential Two-Piece Swimsuits
There is no way that you're going on your honeymoon without packing the most essential item of your entire vacation. Since you'd be either lounging by the shores or spending most of your time lying on the deck on your hammock or deckchair, you need to pack a few bathing suits as well.
Make sure that you pack two-piece bathing suits in order to avoid your skin getting more tanned in the most awkward places. Skimpy outfit for the beach is not exactly necessary as those tan-lines can be brutal but since it's your honeymoon, we guess a couple of those at the end of the day wouldn't practically hurt.
Beachwear for the Volleyball
Splashing around the ocean might seem like the most relaxing thing to do during your honeymoon. However, we hate to break you away, but since you're on the beach, you might as well ride the waves and soak up some sun with a little bit of activity. Put on your volley-gear and show your spouse that you still have those moves from high-school.
Source: Pexels
Apart from playing volleyball or football on the shores, you might want to pursue wind-surfing on a brisk catamaran ride with your spouse. Sure, it might alter your posture a bit, but where's the fun if you don't lean back? Ride those ATVs through the dunes, and go zip lining while you're under the sun.
For this purpose, make sure you pack a couple of tank tops, some sport-gear, wetsuits, shorts, and lightweight kimonos or cover-ups. Cover-ups are ideal if you wish to get away from the sun and plan on walking along the sidewalk or the boardwalk for some beach shopping. Pair your khaki shorts with a padded sport bra and a fedora to match. Make sure you pack some headgear such as a hat and a bandana, a pair of sunglasses and of course, plenty of sun-tan oil.
Airy Sundresses
Let's put this nicely – your entire honeymoon might be a bust if you don't pack a few sundresses and long, flowy maxis in your suitcase. From quirky patterns to vibrant hues, make sure you take along a few sundresses so that you can slip in one and avoid getting too overdressed on your honeymoon. Resorts, beach-houses and cruises are a host of night-time raves or tropical shindigs.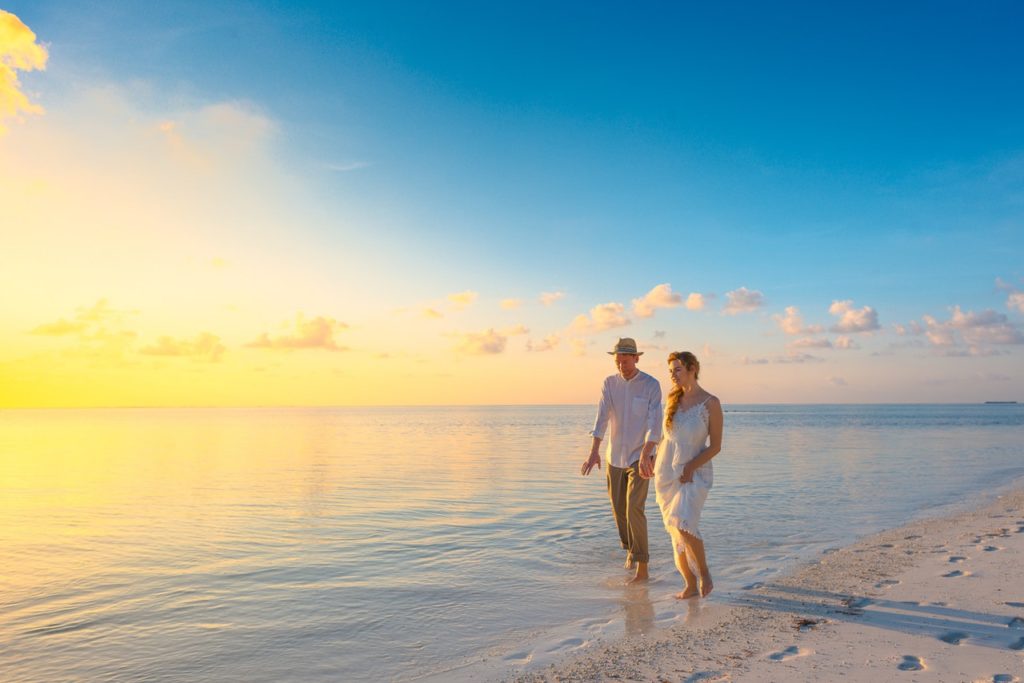 Source: Pexels
Were you planning to wear your plain old khaki shorts to one of the most ideal vacation spots on the planet? On our watch, you don't. Pair your strapless sundress with a little bit of funky jewellery and put your vacay mode on by marching along the deck in your beach sandals or wedges.
Skirts – Yes Please!
A sundress doesn't apparently let you whirl. It hugs to your curves and compliments your figure and epic sun-tan by revealing just the right parts of your skin. However, if you really wish to whirl around, you'd need to add a couple of flowy skirts and blouses to the entire lot of your attire.
Don't get us wrong, but skirts allow your body to relax and unwind by giving you that breath of fresh air from the sun. Dunk those shorts in the ocean, and its time to let your insides breathe. If the sun is too hot for you to pair the skirt with a button-down blouse, then go for a tank top or a crop top to carry out the look.
Also, a midi-skirt won't hurt for those sultry nights, so pack one, and probably thank us later.
Where My Levi's At
Do you plan on staying out in the sun during the two-week cruise your spouse has planned for you? What about a little bit of those sight-seeing adventures, or perhaps a romantic dinner for two at an exotic restaurant apart from the yacht's deck or the boardwalk?
Since you've planned on packing the entire breeze of the Bahamas with your flowy skirts and sundresses, it is time to invest a few bucks in a pair of denim jeans and shorts for a change in attire. There's no way you're going on a sight-seeing adventure in a flowy skirt or a sundress.
Denim shorts are reasonable and can be paired with any type of shirt. Pair your denim lowers with a ruffled shirt, a cotton-poly synthetic blend, or perhaps a graphic crop top if you're up for it. You can also pull your jeans over your swimsuit and unleash your inner beach girl whenever you see a pool, a Jacuzzi, or a good set of waves (this could be pun intended, but since it is your honeymoon, the only waves you'd be seeing is your spouse) at the beach.
Mom-jeans and boyfriend-jeans are making a transit and revisiting us with upbeat their glory once again. While we'd recommend you a couple of skinny jeans, let's be fair and completely up to the mark. Mom-jeans and high-waist jeans are perfect renditions to a boring travel outfit, and will give you a perfect opportunity to spice up a vacation amidst relaxation.
Palazzo Pants and Jumpsuits Rule
You wish to keep it casual but not too casual – right? Well, you've come to the right place for advice. Palazzo pants might be airy and flowy, but they're quite comfortable and not too casual for an evening in the town. Take a bunch of palazzo pants, and let your insides loose with a little bit of detailing on the top.
On the other hand, if you can't decide what to wear, take along a couple of monochrome jumpsuits. They are perfect for destination honeymoons, and help to keep the lounge mood in gear.
Lingerie
And now, it's time for the piece-de-resistance. All attire aside – if you don't bring the 'perfect' lingerie to your honeymoon, then you need to go shopping as soon as possible. Your spouse didn't book a suite on the cruise just to welcome the icebergs and hurricanes in the middle of the ocean.
While you're spending most of your day outside – playing and sloshing around in the sand and waters – it's time to keep the play mode on for the rest of the night as well. Turn up the heat with a bunch of lacy underwear or rhinestone embedded lingerie for few of the best nights of your life. You can also relieve the tension in the room by adorning a satin or silk robe, and unveiling your latest find with a little nudge.
Source: Pexels
Get those scented candles in line, and order plenty of chocolate-covered strawberries and flower bouquets to put an end to a thrilling day in your own enticing way.
Planning for a destination honeymoon might not be as frantic as waiting for the wedding bells to chime along to the much-awaited exchange of vows. Whether you're standing in the center of the church, or riding along with your spouse to the reception, there is a thought at the back of your mind that we know you can't stop tinkering with.