Delve into these watermelon recipes before summer is over!
One of the best things of living on a farm is the fresh fruit. Summertime fruits are something that just about everyone looks forward to and let's be honest, it wouldn't be summer without watermelons. So much so that watermelons have their own month (July) plus their own day, celebrated on August 3 too! With fall just a month away, it's time to take advantage of the most popular melon there is this summer before they're all gone until next year!
Consider a complete watermelon feast, when you head out watermelon shopping. It's a great way to celebrate this melon and ingest lots of healthy nutrients like vitamin A, B6, C, some potassium, lycopene (great for protecting your body against some cancers), amino acids and feel good antioxidants. For starters, you can make a watermelon appetizer by wither making something like Watermelon Goat Cheese Bites or a soup like a Watermelon Gazpacho. If you prefer to start your meal with something a bit more substantial how about a Spicy Watermelon and Feta Salad.
For your main course you can go with a fish based dish like a Grilled Halibut with Watermelon Orange Salsa for a healthy yet super delicious meal. For those that like savory dishes try Grilled Kielbasa with Watermelon Relish. You can even incorporate watermelon into some of your favorite ethnic meals like with the Ssamjang Burger with Watermelon and Kimchee.
Although the main component of watermelon is water, you don't just want to drink plain watermelon juice because it'll probably taste just like drinking water. Instead serve up a Watermelon Woo Woo from Q Drinks. Although the recipe consists of adding vodka to it, you can make it without if you don't drink alcohol. Another refreshing option is a Watermelon Lime Soda and for the kids a Coconut Watermelon Slushie.
With all the different foods that you can create with watermelon, the last thing you're thinking about is creating a dessert with it since you can just slice it and eat. For a quick and fast dessert, you can just slice thick pieces of watermelon and serve with frozen yogurt and sprinkle some fresh berries on top of it. But if you want to get creative try making some Watermelon Mascarpone Mini Trifles for a crunchy creamy delight. Another inventive way to incorporate watermelon into your desserts (if you have the time!) is to create a Strawberry, Watermelon and Rose Jelly with Turkish Delight Ice Cream. Well worth the two days it takes to make!
With just a few more days until the unofficial end to summer, what are you waiting for to get your watermelon munch on? Just click through the list for the recipes of the foods and drinks listed above.
Watermelon Woo Woo
Recipe from Q Drinks
Ingredients:
6 oz Q Ginger Beer
1 oz Gin (or Vodka)
2 oz watermelon juice
1/2 small lime, juiced
Method:
To make the watermelon juice, place watermelon chucks in a blender and blend well until watermelon is pureed. Strain over a fine mesh strainer into a container. Save juice, discard pulp.
Combine watermelon juice, gin (or vodka) and lime juice in a cocktail shaker filled with ice. Shake well, strain into a tall glass filled with ice. Top with Q Ginger Beer. Gently stir.
Watermelon Goat Cheese Bites
Recipe from mint love social club
Ingredients:
1 small seedless watermelon
1 package soft goat cheese
2 tablespoons cream
1/4 fresh cucumber, cut into slices
Directions:
Cut watermelon in 1 inch wide round slices, then punch out circles using cylinder cutter. Place directly on the serving tray.
Mix together goat cheese and cream until combined into a smooth texture.
Transfer cheese mixture to a pastry piping bag with desired tip attachment – I used a star tip for this one.
Pipe about 1 tablespoon of cheese onto each watermelon slice.
Garnish with a small cucumber slice.
Serve immediately or store in the refrigerator for a few hours before.
Watermelon Gazpacho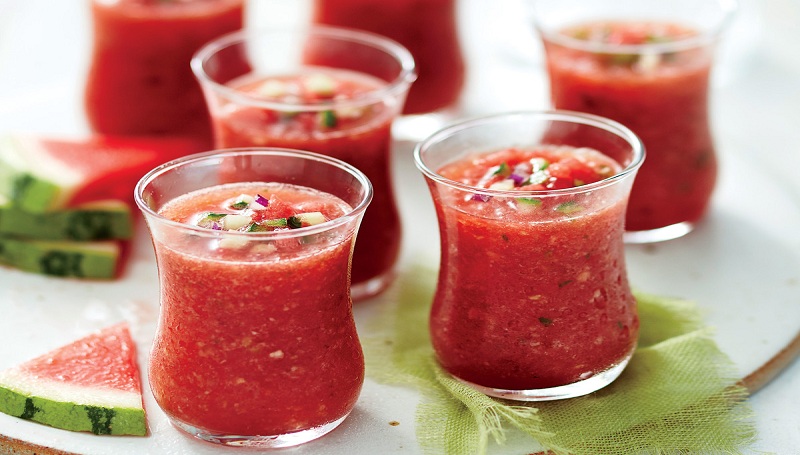 Recipe from Green Kitchen Stories
Ingredients:
Serves 8 as a starter or 4 as a dinner
6 cups watermelon, seeded and diced in 1-inch dices
2 stalks celery, chopped
3 medium size tomatoes, roughly chopped
1/2 cucumber, roughly chopped
2 red bell peppers, roughly chopped
Fresh ginger, about 1 inch, peeled and minced
1/2 chili pepper
Juice from 2 limes
Handful of fresh basil
Salt & black pepper
Directions:
Put 5-6 dices of the watermelon and a couple of celery pieces in each of the 8 glasses. Pour the rest of it in a blender or a food processor together with all the other ingredients. Pulse it until it's got soup consistency, taste it and add more salt & pepper if needed. Divide it in the glasses and set them in the freezer or fridge (depending on how soon you serve it), it should be cold but not frozen. Serve with a thin slice of watermelon attached to the glass.
Spicy Watermelon and Feta Salad
Recipe from In Praise of Leftovers
Ingredients:
Half a cucumber
A few triangles of watermelon
3 Sungold tomatoes
Thai chile
Mint leaves
Basil leaves
A few chunks of Feta cheese
Lime wedge
Olive oil
Sea salt
Directions:
Take a chubby, unspectacular half cucumber that's pining away in your produce drawer. Peel and seed it, cut it into chunks. Find a few triangles of cold watermelon in there, too, and cut those into chunks. Go out in your garden and pick leaves of mint and basil. Pull off the 3 Sungold tomatoes that are ripe, and harvest your very first Thai chile. You don't know if they're meant to be picked when they're lime green (like now) or if you should wait until they become red (will they?), but pick it anyway. Come back into the kitchen, and add the whole herb leaves, halved tomatoes and very thinly sliced and seeded chile to your salad. Put in a few chunks of firm feta. Gently toss. Squeeze a lime wedge over the whole thing, drizzle a little bit of olive oil and finish with flaky sea salt.
Grilled Halibut with Watermelon Orange Salsa
Recipe from Self
Ingredients (Serves 2):
1 cup chopped watermelon
1/2 orange, chopped
1/4 cup orange juice
1/2 teaspoon orange zest
2 tablespoons chopped cilantro
1 teaspoon finely chopped jalapeño
2 tablespoon finely chopped red onion
Cooking spray
2 halibut fillets (5 oz each)
Salt and pepper
Directions:
In a bowl, combine chopped watermelon, orange, orange juice, orange zest, cilantro, jalapeño and red onion. Set aside. Coat a grill (or grill pan) with cooking spray and season halibut fillets with salt and pepper. Grill halibut over medium-high heat until cooked through, about 5 minutes per side. Top with salsa and serve.
Grilled Kielbasa with Watermelon Relish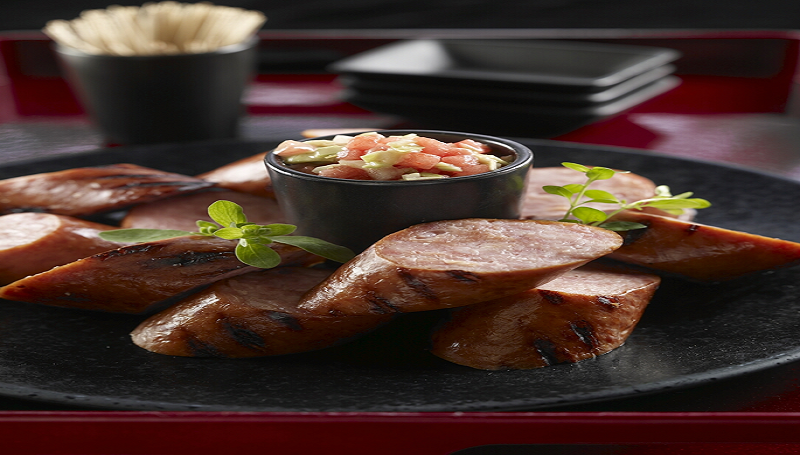 Recipe from Watermelon.org
Ingredients:
1 cup minced watermelon
1/4 cup minced onion
1/2 cup finely chopped cabbage
2 tablespoons seasoned rice vinegar
2 tablespoons honey mustard
3 pounds kielbasa
Directions:
Mix the watermelon, onion and cabbage in a mixing bowl. In another small bowl slowly mix the vinegar into the mustard and then pour the mixture over the watermelon/onion/cabbage mixture and toss together. Grill the kielbasa until brown and crisp on the exterior but still juicy inside. Remove from grill to a cutting board and cool for 5 minutes before cutting the kielbasa into bite sized pieces and skewer them with a pick. Serve warm with the relish for scooping with the kielbasa.
Ssamjang Burger with Watermelon and Kimchee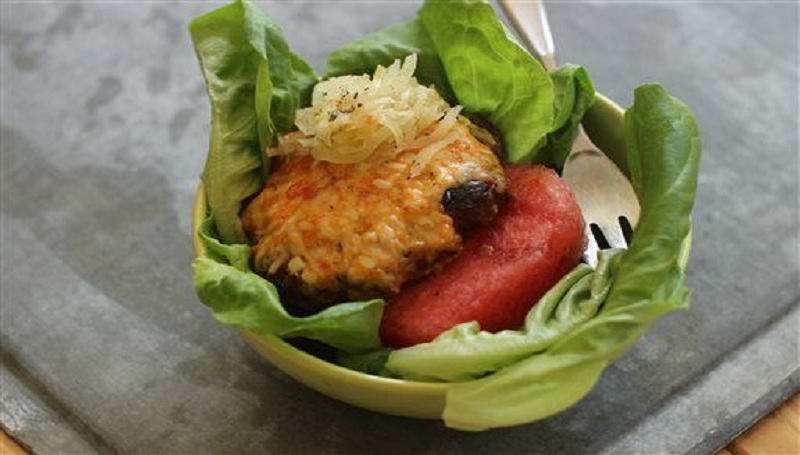 Recipe from Santa Cruz Sentinel
Ingredients:
(Start to finish: 45 minutes (15 minutes active)
Servings: 3)
For the burgers:
1 pound 80 percent lean ground beef
3 tablespoons ssamjang
Kosher salt and ground black pepper
For the condiment:
3 ounces grated white cheddar cheese
1 1/2 tablespoons ssamjang
1 tablespoon mayonnaise
1 teaspoon lemon juice
To serve:
3 slices fresh watermelon, slightly smaller than the burger bun
3 tablespoons chopped kimchee
3 burger buns, preferably potato buns
Directions:
To make the burgers, in a medium bowl combine the beef, ssamjang and a pinch each of salt and pepper. Divide into 3 patties, then refrigerate for 15 to 30 minutes.
Meanwhile, make the condiment. In a small bowl, combine the cheddar, ssamjang, mayonnaise and lemon juice. Refrigerate until needed.
When ready to cook the burgers, heat a cast-iron skillet over medium. Add the burgers and cook until browned on the bottom, about 3 minutes. Flip the burgers and cook for another 2 minutes.
Divide the cheese mixture evenly, spreading it over each patty. Reduce the heat to low, cover the pan and cook about 2 minutes, or until the cheese melts. Transfer each burger to a bun bottom, them top the burgers with a watermelon slice and 1 tablespoon of kimchee. Finish with the bun tops, then serve immediately.
Watermelon Lime Soda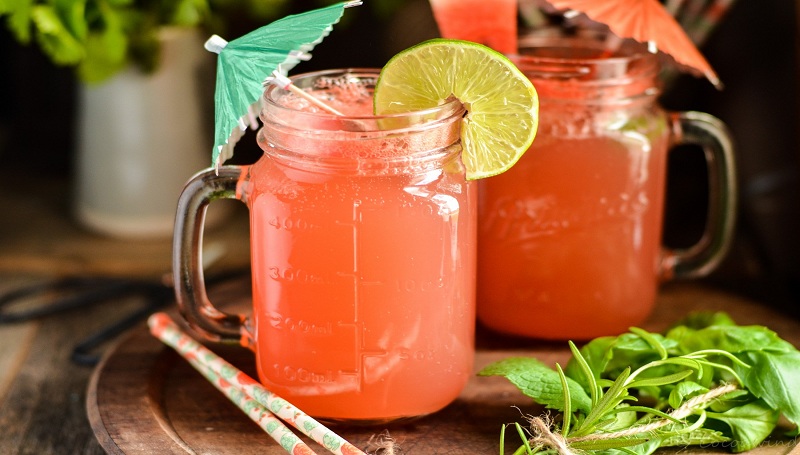 Recipe from Completely Delicious
Ingredients:
About 4 cups watermelon chunks (no need to remove the seeds)
2 cups sparkling water or club soda
1/4 cup lime simple syrup
Ice
Lime Simple Syrup:
1/2 cup (100 grams) sugar
1/4 cup (120 ml) water
1/4 cup (120 ml) fresh lime juice (about 2 limes)
Zest of 1 lime
Directions:
To prepare the simple syrup:
Combine the sugar, water, lime juice, and zest in a small saucepan. Bring to a boil, stirring to dissolve the sugar. Remove from heat and chill thoroughly.
In a blender, food processor, or juicer, puree the watermelon chunks. Pass through a strainer to remove seeds and pulp.
In a pitcher, combine the watermelon juice, simple syrup, and sparkling water or club soda. Add additional simple syrup to taste, if needed. Pour into glasses filled with ice. Garnish with lime wedges, if desired.
Note: Make this a cocktail by adding an ounce of your liquor of choice to each glass, vodka, gin, rum, etc.
Coconut Lime Watermelon Slushie
Recipe from the Minimalist Baker
Ingredients:
Watermelon juice:
1 small seedless watermelon, cubed
Watermelon slushie:
4 cups frozen watermelon (~ 3/4 of 1 small seedless watermelon)
1 lime, juiced
1/3 cup (80 ml) light coconut milk
1/2 cup (120 ml) watermelon juice (plus more to ease blending)
Optional: 1 Tbsp sweetener of choice (such as maple syrup or honey if not vegan)
Optional: Pinch sea salt
Directions:
Halve 1 small, ripe, seedless watermelon and scoop out rounded Tablespoon amounts (or cube with a knife) and arrange on a parchment-lined baking sheet. Freeze until firm – about 3-4 hours.
In the meantime, halve another small seedless watermelon and add the fruit (leaving the rind behind) to a blender. Blend on high, adding a touch of water if needed (I didn't), until completely smooth and pureed.
OPTIONAL: Drape a large, thin dish towel over a mixing bowl and pour over juice. Then gather corners, lift up and squeeze the juice out leaving the pulp behind – there shouldn't be much, but this makes the juice extra smooth. Transfer to a mason jar, cover, and refrigerate – should keep for 3-4 days, or more.
Once watermelon is frozen, add ~ 4 cups frozen watermelon (I found this was about three-quarters of one small watermelon), coconut milk, lime juice, and watermelon juice to a blender and blend on low until creamy and smooth. You will need to scrape down the sides and blend on low to encourage it along. If it has trouble blending, add a bit more watermelon juice, but not too much or it will become too thin.
Once the slushie is blended and smooth, taste and adjust flavor as needed. Add more coconut milk for creaminess, lime for brightness, a pinch of salt to enhance sweetness, or 1 Tbsp sweetener of choice to sweeten. Blend and sample again – repeat as needed.
Serve in empty watermelon rinds or chilled serving glasses and garnish with a lime wedge.
This recipe serves 2 generously. Best when fresh! TIP: Freeze leftovers into popsicle molds.
Watermelon Mascarpone Mini Trifles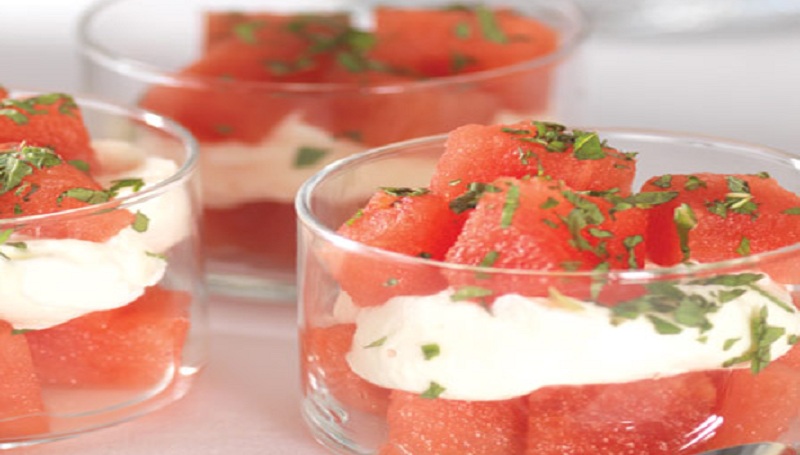 Recipe from Fresh Ideas with Leigh Ann
Ingredients:
4 Cups PureHeart Mini Seedless Watermelon, cut into 1/2″ cubes
1/4 Cup Mint Leaves, chopped
2 Tablespoons Fresh Lime Juice, divided
3/4 Cup Mascarpone Cheese
1/2 Cup Heavy Whipping Cream
2 Tablespoons Sugar
1 Teaspoon Vanilla Extract
Watermelon, Lime Slices and Mint Sprigs, for garnish
Instructions:
In bowl, combine watermelon, mint and 1 tbsp lime juice. Cover and chill for 1 hour.
In mixing bowl, combine mascarpone, whipping cream, sugar, vanilla and 1 tbsp lime juice.
Mix with a hand mixer at low speed until thick and creamy. Do not over mix until stiff.
In small glass dish or footed glass, spoon in 1/3 cup watermelon, 1/3 cup cream and top
with 1/3 cup watermelon.
Repeat, making 6 servings.
Garnish with watermelon, lime slices and mint sprigs.
Strawberry Watermelon and Rose Jelly with Turkish Delight Ice Cream
Recipe from Nine MSN
Ingredients for jelly:
580 gm white sugar (20 1/2 oz)
130 ml dessert wine (4.40 oz or 9/10 of a cup…might as well round up to a 1!)
Juice of 1 lemon and 1 orange
650 gm strawberries (about 2½ punnets or small baskets), hulled and coarsely chopped (23 oz)
300 gm watermelon, coarsely chopped (1 ¼ cup)
1 tbsp rosewater, or to taste
4 gelatine leaves (titanium strength), softened in cold water
Turkish delight ice-cream:
800 ml pouring cream (28 oz or 3 ½ cups of evaporated milk)
200 ml milk (6 ¾ oz)
125 gm strawberries (about ½ punnet or half basket), hulled and coarsely crushed (4 2/5 oz)
6 egg yolks
170 gm (6 oz) caster sugar (Place white or raw sugar in a food processor and pulse for approximately 1 minute until the grains are finer.)
2-3 tsp rosewater, or to taste
80 gm Turkish delight (about 3 pieces or 3 oz), diced, plus extra to serve (optional)
Preparation:
Serves 8
Prep time 25 mins, cook 15 mins (plus cooling, freezing, straining, setting)
Jellies should wobble on the plate, rather than stand rock-solid. Sometimes larger jellies collapse a little when you turn them out. To avoid this, you can set the jellies in individual moulds or serving glasses. You'll need to begin this recipe 2 days ahead.
For Turkish delight ice-cream, bring cream, milk and strawberries just to the simmer over medium heat in a large saucepan. Whisk yolks, sugar and rosewater in a heatproof bowl until thick and pale, add cream mixture, whisk to combine. Return to pan over medium heat, stirring continuously until mixture coats the back of a wooden spoon thickly (3-4 minutes), strain into a bowl over ice, refrigerate until chilled. Freeze in an ice-cream machine according to manufacturer's instructions, then fold in Turkish delight and freeze until required. Makes about 1.5 litres.
Combine sugar, wine, juices and 750ml water in a large saucepan, stir over medium-high heat until sugar dissolves, then bring to the boil and cook for 2 minutes. Add strawberries and watermelon, cook until pulpy (4-5 minutes), remove from heat and stand for 15 minutes. Process with a hand-held blender, then transfer to a muslin-lined sieve placed over a large bowl and refrigerate until liquid drains to yield 1 litre (5-6 hours or overnight; don't press on solids). Discard solids. Add rosewater to strawberry liquid, then transfer 250ml (1 c) liquid to a small saucepan. Squeeze excess water from gelatine, add to pan and stir to dissolve over low heat. Return gelatine mixture to remaining strawberry liquid, pour into a 1 litre-capacity jelly mould and refrigerate overnight until set.
To serve, dip mould briefly in hot water, then pull jelly gently away from sides of mould with your fingertips. Invert onto a serving plate and serve with Turkish delight ice-cream and extra Turkish delight, if desired.
NOTE: Conversions are not from Nine MSN so you may want to double check before making.